Teen Writing Group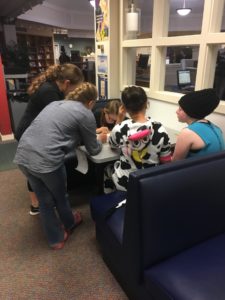 A welcoming group for imaginative and creative people in grades 6-12.  A group made for teens who like to play with words and stories.  Join us as we write, laugh and learn together. 
N.E.R.D.S*
Too old for kids' stuff but not ready for teen stuff?  Then the New Experiences and Remarkable Discoveries Society is for you!  Each meeting we'll have something new for you to try.  Grades 4-8.  *Registration required.
Anime Club
Fans of Japanese animation are welcome to share snacks and watch an anime movie with other otaku.  Grades 6-12.
Dungeons and Dragons
Unleash the power of your imagination while you interact with other teens.  Create your own unique character to guide through battles, quests and courtly intrigue.  Join our group and see what it's all about!  Grades 6-12           
Teen Book Festival Book Group*
Read books by authors who'll be at Teen Book Fest 2020.  Our group meets every other Monday.  Copies of the book are available at the library.  Start reading now for TBF!  Refreshments!  Grades 6-12
Teen Improv Troupe
Interested in Improv?  Want to learn more?  Make laughter part of your life.  Improve your social skills, make friends, and build self-confidence.  Stop in and try it!  Grades 6-12. 
*Registration required.
Teen Library Corps
Our high school volunteer group helps the library in many ways.  Join TLC to plan and present programs for older teens.  Volunteer at library events.  Grades 9-12.
BRATS: Brilliant Readers Active in Teen Service
We want you to be a BRAT, help out at the library and plan fun things for our group to do.  Grades 6-8.  
Volunteer Form coming soon.
Summer Reading!
Check out these fun summer reading programs! You can register under events or give us a call at 637-1050.
Summer Reading Game!
How the reading game works this year:
Read any book you like!
June 29-August 7
On June 29th you can start participating. Once you have read the ENTIRE book and filled out the reading log in the link below, you can select which raffle you would like to enter. You can then pick another book, read that book, and submit another prize entry form for more chances to win!
Click Here to fill out the reading log!
Different raffle prizes you can win!
Prizes are sponsored by the Friends of the Seymour Library.