The Children's Department offer numerous programs, diverse book and audiovisual collections, computers and tablets, games, and much more.  Stop in soon!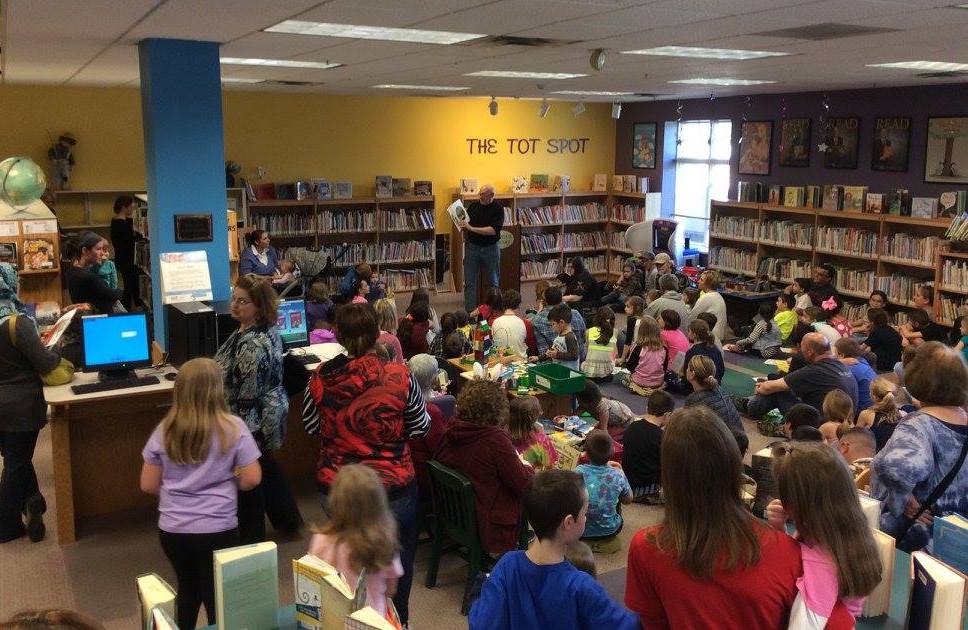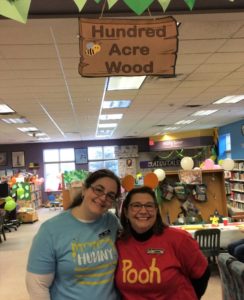 Toddler Time: Mondays, 11:00-11:30 am
Stories, rhymes, songs, and more for toddlers ages 2-3 and their caregivers.
Joey & Cissy the Reading Dogs: Mondays, 3:00-4:00 pm
Meet licensed therapy dog Joey and read him a story!
Babies and Books: Tuesdays, 10:30-11:15 am
Stories and rhymes followed by play time.  For kids up to 2 years with a caregiver.
Preschool Activity Club: Tuesdays, 11:30 am-12:00 pm
Here's your chance to do some fun art activities without worrying about the mess.  For ages 2-5.
Preschool Story Time: Thursdays, 10:15-10:45am & 11:00-11:30am
Stories, songs, rhymes, and more for kids ages 2-5 and a caregiver.
---

Other Regular Programs (Dates & Times on our Events page):
Science Story Time
Stories, songs, and more followed by a fun science experiment.  Ages 2-5.
Homeschool Hour
Meet other homeschool families and talk about the joys and challenges of homeschooling.
Lego Club
Join fellow builders for some creative Lego fun.  Grades K-5.
Family Movie
Popcorn and drinks provided.
N.E.R.D.S
Looking for something fun to do after school?  Try N.E.R.D.S!  Each meeting we'll have something new for you to try.  Grades 4-8.
Baby's Morning Out
Babies, toddlers, and their caregivers are welcome to join us for a variety of sensory activities, toys, and a craft.
Pajama Story Time
Have a fun evening out in your pajamas with some stories, songs, and rhymes.  Stuffed animal friends and siblings welcome.  Ages 2-5.
Stories & More
We'll read some stories, then have some fun at the library with a variety of play stations, including science, art, dramatic play, and more.
*Parent attendance at children's programs is required unless otherwise specified.
Special Programs & Events
We have worked hard to bring you engaging programs in a virtual environment since we are unable to have large programs at the library. We are using program kits that will be picked up at the library to make our programs as interactive as possible. We also have some great presenters who will be presenting via Zoom.

Click Here for our 2020 Summer Reading Brochure!

Kids Summer Reading Program
For Preschool to Grade 5
We ask that you read at least 100 minutes per week to earn a prize. We will be providing small toys as weekly prizes, but they will not be able to be picked up until the library is open to the public. We will also have larger weekly raffle prizes.
Prizes will be determined as follows:
100-199 minutes read= 1 small prize and 1 raffle ticket
200-399 minutes read= 1 small prize and 2 raffle tickets
400+ minutes read= 1 small prize and 3 raffle tickets
The top 5 readers of the summer will receive Lift Bridge Book Shop Gift Certificates.
You can begin to count your reading June 20 and the first day to start entering minutes online or turning in forms will be June 29. If the library is still closed to the public, there will be an envelope to turn in forms near the front door.
Because of the schedule of the Kick-Off and the Finale Party, it is not a perfect 7 day schedule, depending on when you start tracking your reading.You are welcome to join in at any point, but kids will need to read at least 600 minutes between June 20 and August 7 and either log their minutes online or turn in forms to get an invite to the Finale Party.
Prize drawings and notifications will happen on Mondays.
Week 1: July 6
Week 2: July 13
Week 3: July 20
Week 4: July 27
Week 5: August 3
Week 6 will be drawn at the Finale Party (Friday, August 7).
Once the drawings happen the previous week's raffle will be closed.

Click Here for the printable Week 3 Reading Log
OR
Click Here to enter your minutes online after you've completed the third week
Week 3 Raffles:

Because of the COVID-19 regulations, we are not able to have our typical large programs at the library. So, we have come up with Bingo Boards with activity ideas for families to use at home to supplement our virtual program offerings. You can earn a raffle ticket for each row you complete or 6 raffle tickets for completing the whole board. The Bingo raffle winner will be drawn at the Finale Party and will be notified by August 10.
Click Here for the printable Bingo Board for Weeks 1-2 (Starts June 29)
Click Here for the printable Bingo Board for Weeks 3-4 (July 13-24)